2 students of meritorious school crack JEE (Advanced), 44 clear NEET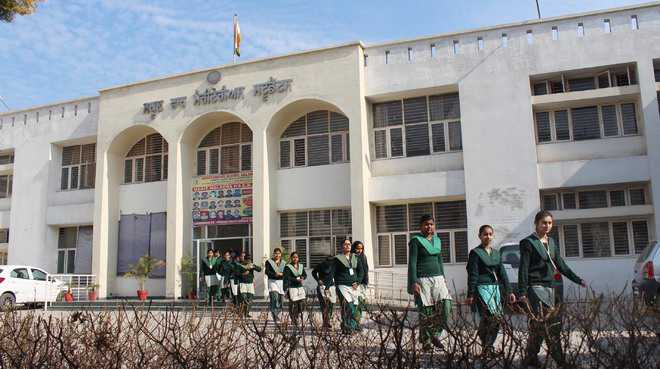 Jalandhar:
With an impeccable record of admissions in the highly competitive professional courses, the School for Meritorious Students in the district has emerged as a catalyst for transforming the destiny of students. The students of the school have excelled in various professional courses and the latest being the highly competitive Joint Entrance Examination (Advanced) for admission in engineering courses and National Eligibility-Cum-Entrance Test (NEET) for admission in medical courses.
As per information, 46 students of the school had cleared JEE (Mains) this year of which two had further cleared JEE (Advance). As many as 44 students of the school had cleared NEET this year, which was a matter of pride and satisfaction for the students.
The two students who qualified JEE (Mains) are Puneet Singh and Poonam Rani while others who qualified NEET include Shikha Chaudhary, Lovedeep Kumar, Manjit Singh, Paramjit Kaur, Amar Kumar Teji, Pooja, Ritu Bala, Khusboo, Sandeep Kumar, Manjinder Kaur Gill, Kirandeep, Ashima Chaudhary, Rinku Singh, Chehak Pal, Karamveer Kaur, Ramandeep Kaur, Poonam Banger, Anjali, Ramana Devi, Kushal, Harpreet Kaur and Muskan.
Talking to The Tribune, Puneet said it was the sheer hard work that paid back. He said staying away from social media helped him focus on studies and now he hopes to become a successful engineer one day. Complementing the students, Jalandhar officiating Deputy Commissioner Kulwant Singh said it was really a proud moment for the parents and the school.
He said meritorious schools were acting as a catalyst to realise big dreams of bright students.
Singh said the success story of these schools, with students scoring more than 80 per cent marks in government schools, had proved that this experiment of the state government in shaping their career in the right direction had been successful.
Principal of the school Ramandeep said the students of the school had been time and again proving their mettle in highest competitive exams of the country. He said the students were fortunate that government had opened these institutions to give right direction to their career.
He complimented the faculty of the school, which had made sure that students work hard and give results. However, he said the results could be further improved with more hard work and dedication.
["source=tribuneindia"]